Who are we?
The oldest commercial vineyard and winery in Arizona, Sonoita Vineyards was started in 1974, opened in 1983 and now includes over 30 acres of vines. Aided by the unique growing conditions of the Sonoita Appellation (AVA – American Viticultural Area), the winery consistently creates award winning wines, including a Cabernet Sauvignon chosen by national wine critics to serve at a Presidential Inauguration Gala. Perched at an elevation of 5,000 feet among rolling grasslands, the vineyard is surrounded on three sides by soaring mountain ranges.
The staff is small making each vintage of wine a one of a kind experience. The small staff does all the production and vine care under the guidance of Lori Reynolds, our Winemaker and granddaughter to our founder Dr. Gordon Dutt and Robi Reynolds, our Vineyard Manager.
Every bottle of wine is hand bottled, labeled and capped in small batches at less than 2,000 bottles per vintage. Our grapes come no further than the Southeastern Arizona Region with the majority of wines being vinted from estate grapes.
The Vineyards & Winery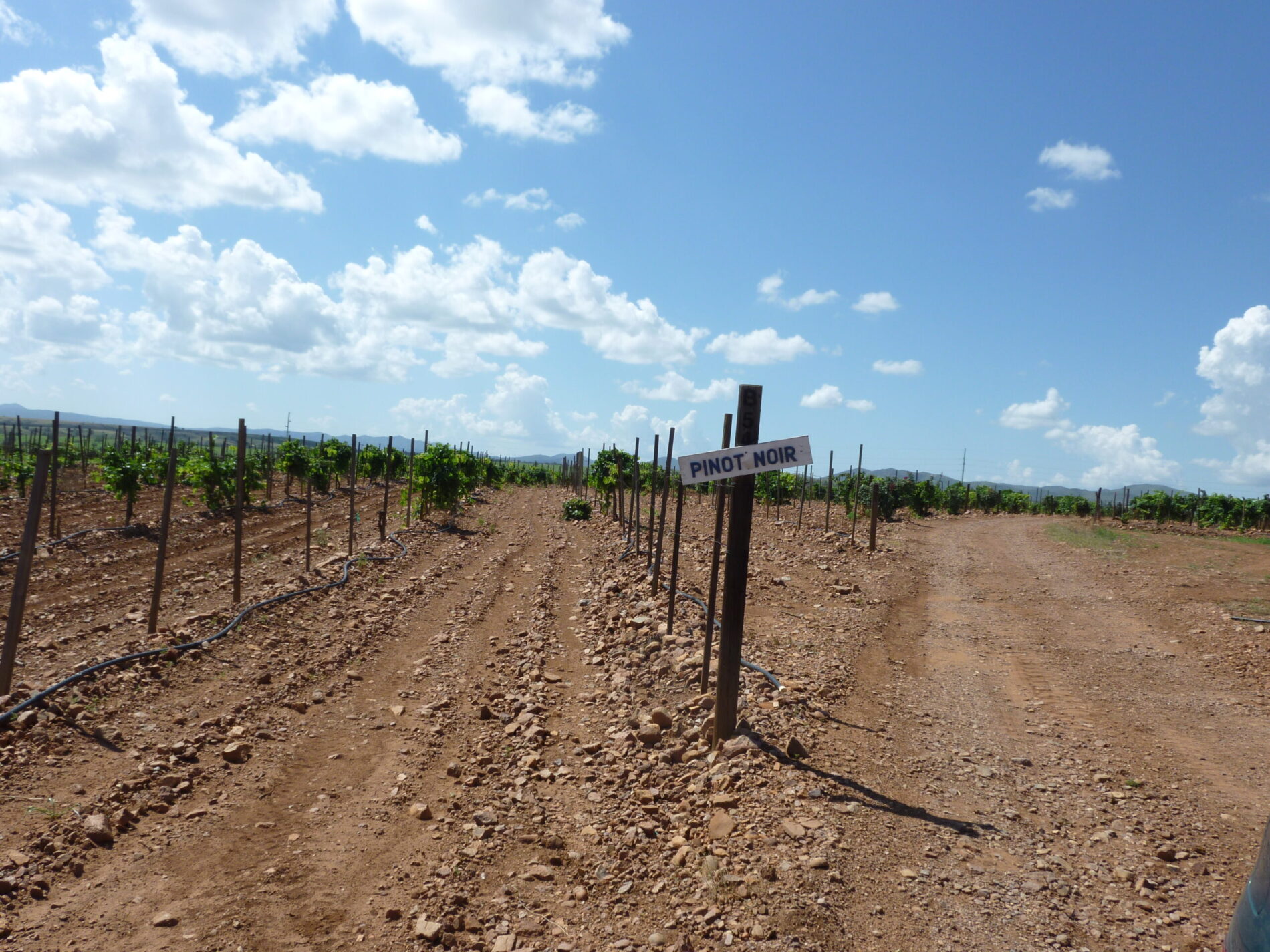 At Sonoita Vineyards, we define sustainability broadly, seeking not only to be responsible stewards of the land, but also to preserve this land for future generations of our family. There is nothing static about this view of sustainability—it requires innovation and action. We believe that preserving the unique ecosystem of Sonoita is essential to wine quality, as well as to the health of our family and business. In 1976, Dr. Gordon Dutt developed a system of water harvesting utilizing the hillside and building berms that would both reduce the effects of erosion and reduce the overall amount of water needed to irrigate.
It has been the policy, since our inception, to recycle all bottles and cardboard at the local recycling center. We also compost all wine making byproducts by returning the grape skins, stems, and seeds to the vineyard for use as a fertilizer, which in turn reduces waste.
Sonoita Vineyards is a 30+ acre vineyard situated on the south side of a hillside, surrounded by rolling grasslands and several mountain ranges. This hillside planting protects the vines from harsh winds and frost. The grape varietals grown at Sonoita Vineyards are Chardonnay, Mission, Merlot, Cabernet Sauvignon, Syrah, Petite Sirah, Sangiovese, Sauvignon Blanc and Pinot Noir. In 2013 we planted on Malbec, and in April of 2017 we planted Tannat.
Certainly there are challenges to growing fine wine grapes in the climate of the American Southwest, but Vineyard Manager, Robi Reynolds, takes advantage of the benefits this region offers. The phylloxera louse finds life in such dry weather extremely difficult – if not impossible, as do most rot, mold and mildew. Cold winters in the high altitude of Arizona greatly reduce the risk of Pierces disease. Insects and other pests generally exist in much lower concentrations in desert areas as compared to the lush valleys of California and the Pacific Northwest, providing growers positive conditions for reduced-pesticide farming.